Split Payments
The Marketplace Payment Solution.
The solution to managing payments to different recipients. Payment gateways help to marketplaces get paid easily by clients but paying sellers could be a big problem for marketplace businesses. There is were truust comes in with the split payment solution.
Split payments between suppliers
You charge a customer and the funds are divided among several recipients.
Real-time money transfer
Split delivers real-time direct debit and direct credit solutions offering fast clearance and transparency. It's bank transfers for the digital age.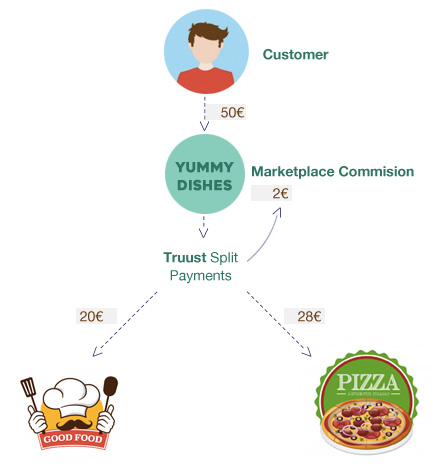 Let's explain it with an example.
A food ordering website called YummyDishes caters to many small restaurants. A customer pays for a pizza and ice-cream through the YummyDishes website, the YummyDishes system tells to Truust how to split the payment. Truust splits and settles the payment with both the pizza and the ice-cream outlets.
Simoustaneaosly selling a commission to YummyDishes account and that's it, no more payment disputes with the restaurant's owners.
Benefits for the user
Simple payment process.
All unified in one invoice.
Access 24 hours a day, 7 days a week.
Trust and guarantee.
Safe return in case of cancellation.
Added value for the business
Defines the amounts by percentage or fixed value.
Simplifies everything in one action.
Maximum transparency in payments.
Zero costs in case of cancellation.
No development needed.
Maximum security in the payment.
Accepted in SEPA Zone
You avoid fraud.
Get started with Truust today