While large corporations are struggling to keep up with them, sharing economy companies are giving people more control in almost every industry.
Thanks to the growing popularity of "sharing" and the rise of the sharing economy (gig economy, collaborative consumption, etc.), businesses around the world are making getting goods and services fast, easy, and cheap.
Believe it or not, there are more companies willing to revolutionise the Sharing Economy beyond the giants Glovo, Uber or Airbnb. Whether you need health care, a booster teacher or a person who stays with your pet for a few days, you'll find a startup that suits your needs.
These are some of the pioneering startups that are at the forefront of the sharing economy.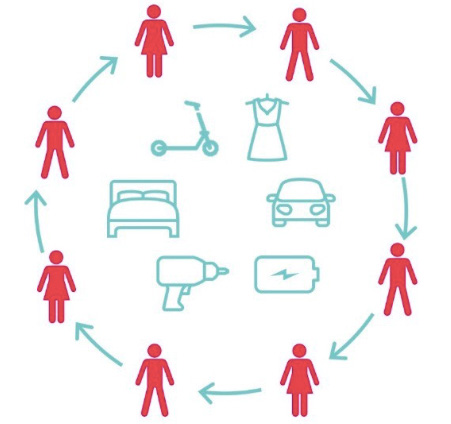 Badi
Find your future room
Badi's objective is to solve a problem that appears sooner or later in the lives of many people in cities such as Barcelona or Madrid, where rental prices are so high that sharing apartments has become practically the only way to get housing.
The Badi app helps you find available rooms or list your free room and find new flatmates to move into. App users share their profiles and interests, and an intelligent referral system automatically suggests potential candidates, making finding a flatmate quicker and easier.
In addition, the app offers a live chat option to facilitate the selection process. There's nothing worse than having to live with someone you can't stand, so all help in finding the perfect roommate is scarce.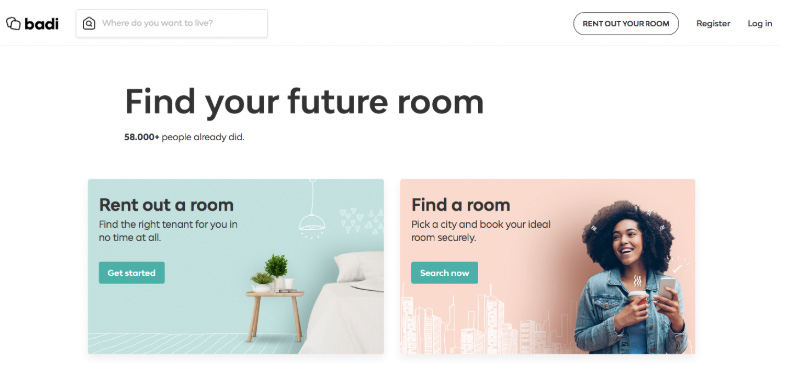 Too Good to Go
Fighting food waste
Living in big cities can be quite expensive, especially when you're a tourist and don't know where to get the best deals, or if you're a student and have to skimp on expenses. This is where Too Good To Go, a pioneering startup in the area of collaborative consumption comes into play.
They work by connecting cafes and restaurants that have leftover food to get rid of, with hungry people who pay a reduced price and pick up the food before it is thrown away.
The food waste they treat at Too Good To Go is all the perfectly edible food that stores and restaurants have to throw away at the end of the day.
From sushi rolls and chicken skewers to cakes and muffins, there's something for everyone. By contributing to the reduction of wasted food, you not only do a good deed, but you also save money.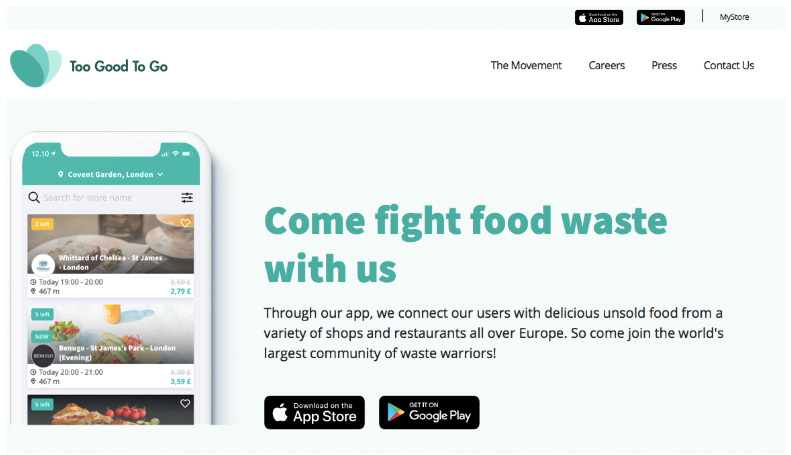 SocialCar
Rent a car
SocialCar, a platform for renting cars to private individuals, is an excellent alternative to traditional car rental agencies that charge huge amounts for short-term rentals and block thousands of euros on your credit card as collateral.
It is also a very good alternative to other carsharing services, because not only do they have their own car park where they keep your car and even manage your bookings for you, but they also offer an instant booking option that allows you to rent a car without having to wait for your application to be approved.
Other benefits include up to 50 million euros of liability insurance for owners, and a convenient airport picks up and drop off option.
So they've basically managed to eliminate all the traps typical of carpooling, allow car owners to earn money almost effortlessly, and offer anyone who needs to rent a car, van or caravan a hassle-free alternative at an affordable price.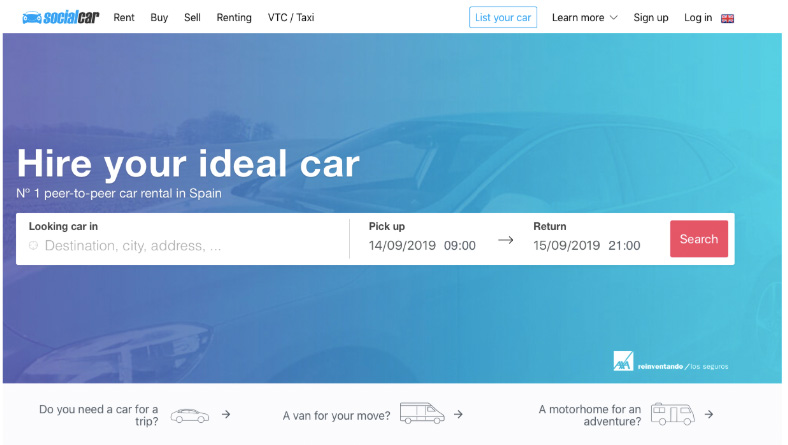 Rover
Hire a dog or cat sitter
Rover, formerly known as DogBuddy, claims to be the largest community of dog handlers in Europe and is created for taking care of your dog or cat – like a walk in the park. You only have to complete three simple steps. Find your zip code, read customer reviews to find the best kangaroo for your pet, and make your reservation.
This is ideal for those unexpected trips, or really any time you leave town and have to leave your pet alone.
Since its launch in 2013, Rover has already merged with its Spanish competitor Bibulu, raised at least $4,350,000 in funds and is available in most major cities in the UK, Spain, Italy, France, Germany and Sweden.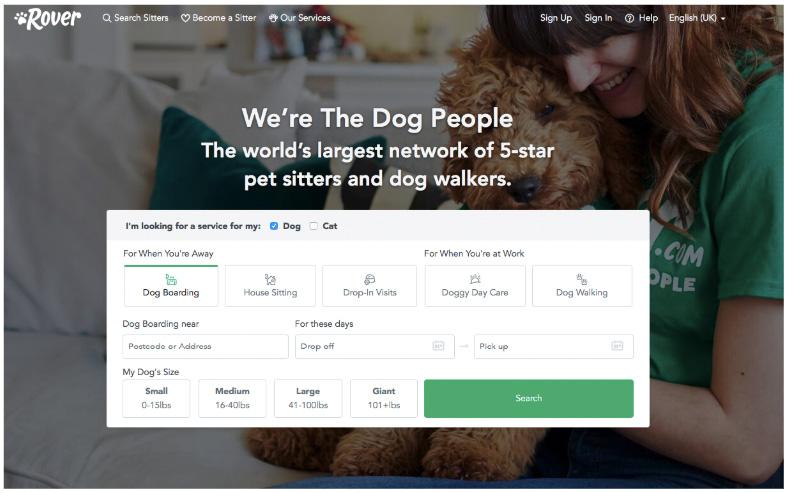 Lendi
Borrow what you need from your neighbours
How many of us have in our homes stacked boxes full of things we only use once or twice a year? 99% of the time, all that sports equipment, all that carpentry tools and outdoor grilling utensils are out there picking up dust and taking up space. Wouldn't it make more sense to put those things to use from time to time, while helping a neighbour in need?
Lendi's goal is to change the way we consume and return to a model of consumption that used to be the most normal for human beings: sharing.
Once you sign up for the platform, you become part of the Lendi community in your neighbourhood. Whenever you need to borrow something, just borrow it from your app, Lendi WhatsApp, or your neighbourhood Facebook group, and someone will lend it to you. In this way, you're not only saving time and money, but you're also contributing to a collaborative community and helping to care for our planet.
Lendi believes that the era of solitary consumption is over, and they are here to provide a platform for those who prefer to rely on human interactions rather than an unnecessary pile of possessions.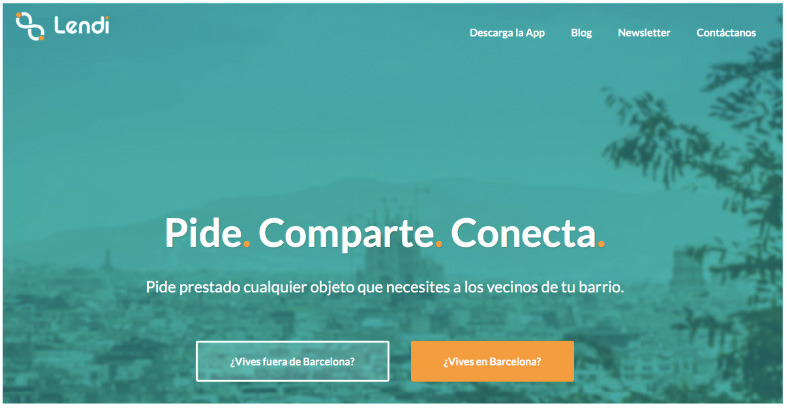 References:
https://www.thebalancesmb.com/the-sharing-economy-and-how-it-changes-industries-4172234
https://www.forbes.com/pictures/eeji45emgkh/dogvacay/#182c04652554
https://bmtoolbox.net/patterns/sharing-economy/
Find your business motivation!