Nowadays, physical cash and cheques are being increasingly replaced by digital payments when it comes to send and receive money in marketplaces and eCommerce sites. Importantly,  it seems that the public embraces the convenience and usability of this alternative payment method provides.
According to the statistics portal Statista, by the end of 2019 the digital and mobile payment revenue surpassed $1 trillion, in contrast with the $450 billion in 2015, which demonstrates the rise of new payment types.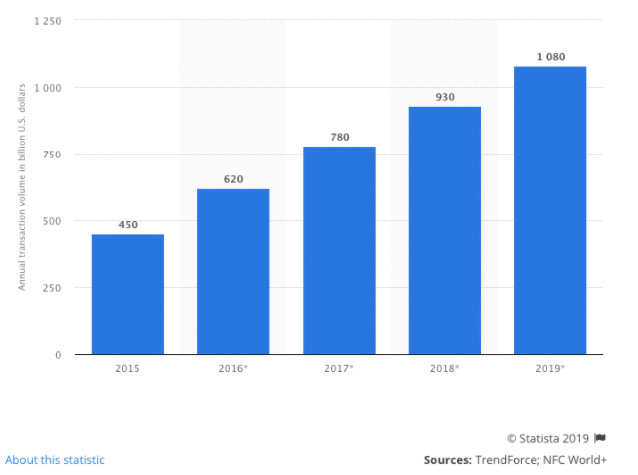 Total revenue of global mobile payment market from 2015 to 2019 (in billion U.S. dollars).
SOURCE: https://www.statista.com
Mobile and digital payments, either using credit cards, net banking or payment wallets, is a growing trend that retailers cannot afford to ignore. 
Although for smaller transactions cash is still used, consumers increasingly prefer to use digital methods of payments both in physical and online shopping. In fact, a report of Forrester demonstrates that the main challenge of retailers in the forthcoming months is to implement new alternative types of mobile and digital payment on their platforms.
The rise of new emerging types of digital and mobile payment varies depending on the region and country. For instance, the southeast of Asia has seen a greater implementation of mobile payments. However, customers have made clear that the demand for mobile payments in retail seems to be the same worldwide.
The implementation of digital payments is booming
Small retailers can easily provide digital payments on their sites via a simple payment button for their preferred virtual bank. This makes possible to send and receive money directly from eCommerce platforms and customers worldwide.
Additionally, the payment process is even simpler for websites, as customers only need to choose their payment details to log into their payment account and complete the online transaction via a prepaid card or their account.
In the field of mobile payments, it is important to note that eWallets have proved increasingly relevance for their usability: they can be used in physical shopping, or in online shopping, via app or eCommerce websites.
Apple Pay and Google Pay, which are mobile-first wallets, are designed both for in-app and mobile browser purchases. In addition, there are also browser-oriented eWallets, such as Masterpass or Visa Checkout, which have been thought to provide a browser checkout experience regardless of device. Then we find eWallets such as the likes of Paypal and Alipay, which indeed are stored balance and credit card wallets.
Technology at the service of secure online transactions 
Merchants willing to accept mobile wallets at the point of sale should improve the convenience as well as the security of their site. Although the demand for digital payments is there, it should not be ignored that it has a focus on customer experience.
And mobile payments are actually more secure and usable than card payments, as they provide additional verification that many of today's smartphones support. Fingerprint scanning, facial recognition, or voice control are some of the NFC technologies that devices provide to scan digital wallets.
In this context, digital and mobile payments have become strategic assets in the success and growth of the small retail business both in the short term and into the future. By valuing digital experience, you will be able to meet the needs of your customers at every stage of their online journey.
References 
https://medium.com/iquii/digital-payments-a-growing-trend-with-a-focus-on-customer-experience-d31fa69664bc
https://www.statista.com/statistics/226530/mobile-payment-transaction-volume-forecast/
https://www.forrester.com/report/The+Forrester+Wave+Global+Merchant+Payment+Providers+Q4+2018/-/E-RES141076
Find your business motivation!