Since their first appearance a few years ago in the UK, the neo-banks are becoming increasingly important in the Fintech sector worldwide. Far from being just another trendy concept, we are facing new financial institutions that are here to stay with the main objective of simplifying banking services.
What are neobanks?
A neobank is a digital bank without branches.
A neobank is a bank without branches where all operations are done online. Unlike traditional banks, neobanks have no specific physical location but instead operate 100% digitally.
Therefore, the neobanks are simply fintech companies that offer a wide range of digital and mobile financial solutions, including:
Checking and savings accounts
Payment and money transfer services
Loans for individuals and companies
Other services, such as budget support among others
It should be noted that, although some neobanks operate with a banking license, the vast majority of these digital entities lack one, so they require other banks to be able to operate normally.
Neobanks vs. Digital Banks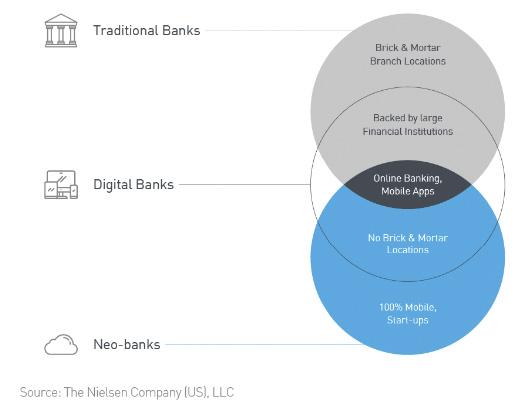 Why neobanks
As experience and customer satisfaction are gaining importance in the financial landscape, a gap has opened up between what traditional banks offer and what their customers expect from them. So, neobanks are willing to fill that niche in the market.
These digital entities owe their rapid growth and low costs to technology: since they do not have branches, maintenance costs are very low, which translates into lower commissions and more dynamic service for customers.
In addition, the fact that all transactions are made online means that neobanks can occupy a market niche unattended by traditional banks.
On the one hand, neobanks attract that part of the population that expects to be able to do their banking from their mobile phones without the need to go to branches or stand in line at offices.
On the other hand, neobanks are also the perfect hook for SMEs that require online financial services such as a payment gateway, billing software, multiple views of cash management, etc.
In short, neobanks provide the flexibility that traditional banks do not have.
Unlike traditional banks, which have a complex technological legacy, neobanks have a powerful database that is easy to exploit from the outset. With this great advantage, they are able to offer continuous improvement of their services to adapt to the needs of their clients.
How neobanks operate
Neobanks try fundamentally to differentiate themselves from traditional banks, being more attractive to those who are frustrated by the more traditional banks that control the financial market. That is why neobanks are also known as "challenger" banks.
And, because they do not have a physical location and operate entirely online, customer expenses are significantly reduced. By focusing on the customer, neobanks provide customized services to their users through technology.
Strategic decisions are made based on the multitude of data they collect from their users. Because their platforms are also highly modernized, it becomes easier for them to collect and analyze data and understand how their customers behave in the financial ecosystem.
Based on these observations, they create customer segments based on their operations, rather than being limited to just one or two data points.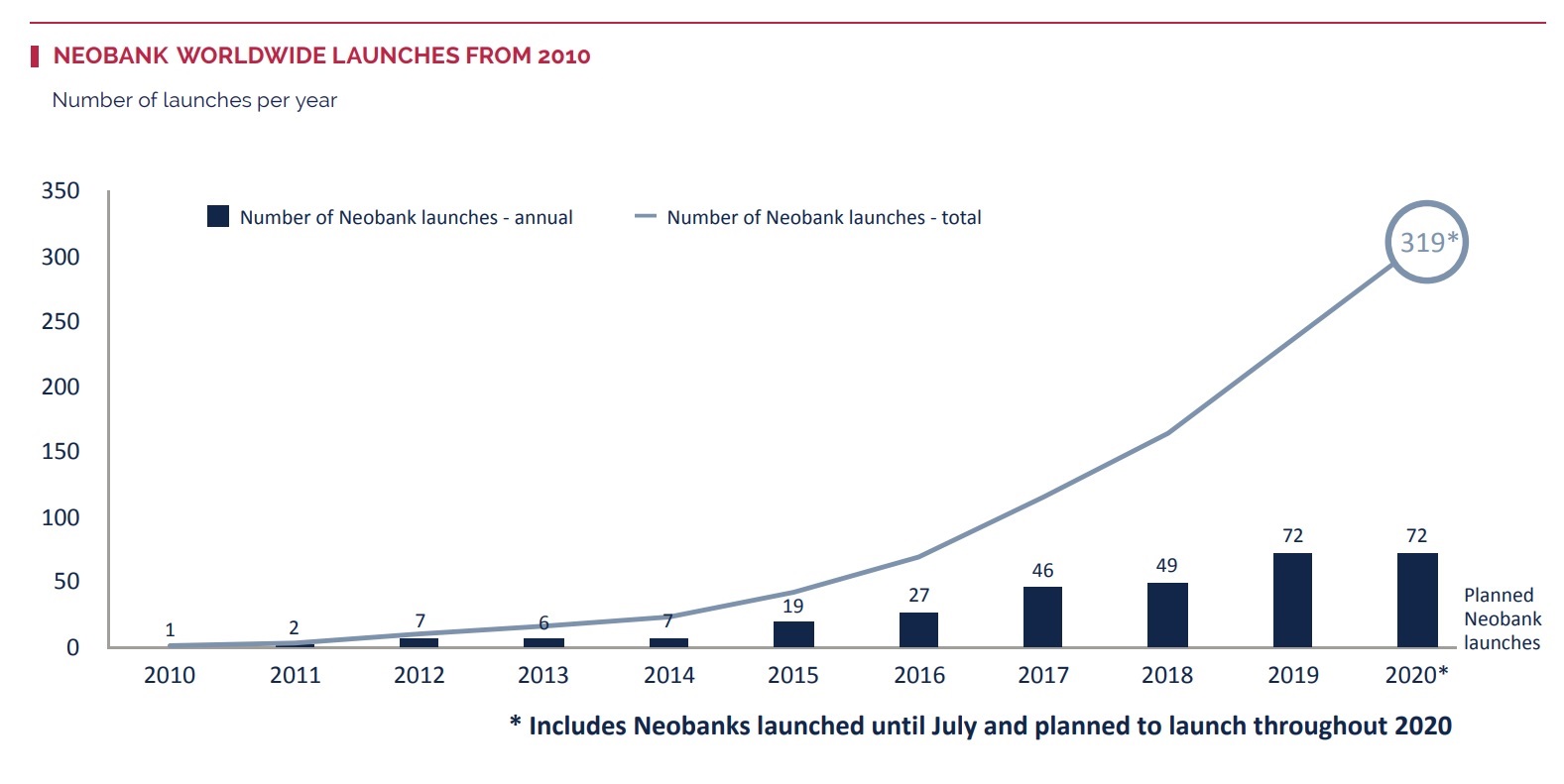 How neobanks make money?
Since neobanks have lower overheads than traditional banks, they can ncrease their profit margins. If they partner with banks instead of getting a charter, this can result in lower fees, with costs remaining even lower.
Other ways of getting money from neobanks include paying for ancillary services, charging interest on deposits, providing credit (although not necessarily to consumers) and charging businesses through credit or debit card transactions.
Types and examples of neobanks
Although initially, they may seem very similar to each other in terms of how they manage transactions, there are crucial differences that depend on their licensing system.
In this section, we present the most common types of neobanks with examples of each.
With their own banking license: Most popular neobanks operate with their own banking license, either specialized or full range. With the right license, they can provide their own checking accounts, prepaid, debit or credit cards, currency exchanges, crypto-currencies, money transfers, retail payments, savings accounts and loans.
Examples: bnc10, N26, Revolut, Monzo, Starling Bank, Atom Bank.
Without banking license: Neobanks that offer financial services, but with licenses from other banks. Customers may already have an account at another bank, which is linked to the neobank service that provides its own unique interface and tools for their bank account operations. The tools could be transaction analysis, budget management and automated notifications to help users achieve their financial goals. Other neobanks also use the license of a partner bank (parent company) to offer their financial products.
Examples: Yolt, Simple, Chime Bank.
Beta Banks: Financial services subsidiaries of a larger and more consolidated bank that wants to reach more customers or develop new products under a different brand. Beta banks can offer their offerings under the license of the parent bank and expand to other countries through the licenses of the partner banks. Services can be limited initially and expanded as they gain popularity.
Example: B next, Mettle, Sberbank Direct.
World's Leading Neobanks
According to global surveys, as of December 2020, the following are among the largest neobanks:
Chime (US), a mobile bank with no hidden fees on Visa debit cards and debit and savings accounts, is currently valued at US$14.5 billion.
Varo (US) is the third largest neo-bank in the US as of 2020, behind only Courant and Simply. It is the first neo-bank to be granted a national banking licence (separate licence).
Dave (USA), a billion-dollar start-up, has joined the elite Unicorn Club. Its mission is to help solve pressing financial problems: closing the payment gap without additional bank charges, getting interest-free loans, finding temporary work and improving credit ratings.
Monzo (UK) is one of the first IT start-ups in Europe and one of the few with a banking licence, which is only available under UK and Australian law.
Revolut (UK) is ranked second in terms of capitalisation at the end of 2020: $5.5bn. One of the most high-profile fintech projects in the world.
N26 (Germany): €1 billion in total customer funds. Apart from UK neobanks, an important European project that has announced its expansion into South America in 2020.
SoFi (US), which describes itself as a 'next generation financial company', takes an unconventional approach to lending and wealth management. Its StockBits product, for example, allows buyers to buy and sell fractions of 50 popular companies for just $1.
Robinhood (US) offers a mobile app for trading stocks, ETFs, options, ADRs and cryptocurrencies for free. In September 2020, the startup raised $660 million in Series G funding. It raised US$660 million in Series G funding and was subsequently valued at US$11.7 billion.
Klarna (Sweden) became Europe's most expensive startup in 2020 with a $650 million investment, an installment shopping service that partners with global brands such as Adidas and H&M. Its partner network has 130,000 shops.
Neon (Brazil). Its customers have access to unlimited, free interbank transfers and securities deposits that can be redeemed or used at any time. In June 2020, Neon bank announced a partnership with WhatsApp and integrated payments into the app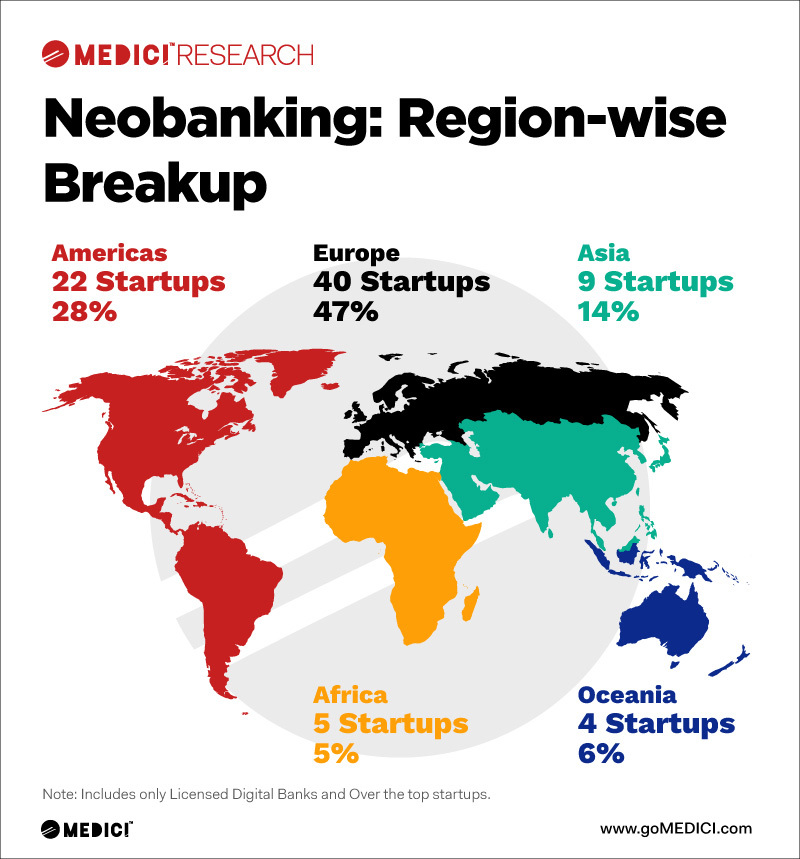 How to start a neo bank
Building a neobank seems difficult, and especially when you first start to learn about customer needs, it seems like an impossible mountain in front of you. But it's not that difficult.
To start a neo-bank you need:
1. A banking licence
There are two options: to get your own bank licence or to rent one. The advantage of renting is that you can get started very quickly and reap the benefits in about six months. And you don't have to pay that much. If you already have a banking licence, you don't need to do anything else.
2. A developer licence for Apple and Google
You will need these to be able to develop your app.
3. Few helpers
You can build the NEO bank yourself, but it is much quicker with helpers that can help you in creating user interfaces and developing the banking system and apps. Look for specialists!
4. WordPress site or similar for your internet presence
There are many options to choose a cheap web hosting, but if you also want to give your NEO Bank a web frontend, it needs its own web hosting.
Pros & cons of neobanks
Many customers do not value the advantages of digital banking highly enough to leave the benefits of branch banks behind in return.
But also some services offered by traditional banks are – at least currently – not yet available from most modern banking services. These points are not only popular with people who have been used to them for many years. They are clear pro-arguments that should also serve to inspire neo-banking portals.
| | |
| --- | --- |
| Pros ✅ | Cons ❎ |
| Speed | No branch network |
| Convenience | Confidence |
| Cost savings | Security |
| Technological advantages | |
Pros
Speed: Opening an account online is quick. Thanks to the video identification process, the account is set up quickly and is usually available for use on the same day. The functions you need for daily use of your online account are also available in a flash: Transfers, deposits and withdrawals are synchronized in real-time, so you always have a daily overview of your finances. It's hard to imagine online retailing without lightning transfers. New products are also being developed and made available at a rapid pace.
Convenience: Neobanks specialize in online banking with your smartphone. This allows you to access your account at any time and from anywhere and to carry out your banking transactions easily, quickly and conveniently on the go.
Cost savings: Pure online banks have lower operating costs. Customers subsequently benefit from lower prices and higher interest rates. Neobanks often offer packages with different scopes of services. The basic variant is even free of charge at many of them.
Technological advantages: Neobank customers are usually tech-savvy and use all the technical options that make online banking easy, fast and convenient. Neobanks score here with good usability and user experience.
Cons
No branch network: One disadvantage is that most of the Neobanks are completely digital banks and therefore does not have a branch network. In this respect, branch banks are better. So you will have to do without a direct contact person for the Neobank checking account in any case. Of course, this is less and less important in times of direct banks, but it should still be mentioned among the disadvantages of the Neobanks account.
Confidence: This is more of a problem with older customers – they basically don't trust new technologies, which is why they prefer to rely on the old-fashioned systems instead. The particular problem is that this prejudice means that many people do not even bother with the new possibilities, even if they would ultimately be advantageous.
Security: Currently, there are still minor to major scandals from time to time, which damage the public image of neobanks. Thanks to the strictest regulations, traditional banks still feel much safer – a feeling that the masses apparently urgently need before they entrust their money to an institution.
Bottom line
The fact that neobanks do not depend on a physical network and have a totally digital offer, places them at the head of traditional banks and makes them more attractive: both for the younger generation and for SMEs, which are a great growth area for neobanks.
However, it is the modernity and simplicity of their technological systems, their low or zero cost accounts, their higher savings rates and their customized financial solutions that could make them market leaders in the coming years.
REFERENCES
https://www.businessinsider.com/global-neobanks-report?IR=T
https://news.crypterium.com/10-best-challenger-banks/
https://www.americanbanker.com/list/first-wave-of-neobanks-resets-for-new-offensive
Find your business motivation!