Since their first appearance a few years ago in the UK, the neo-banks are becoming increasingly important in the Fintech sector worldwide. Far from being just another trendy concept, we are facing new financial institutions that are here to stay with the main objective of simplifying banking services.
What are neobanks?
A neobank is a digital bank without branches.
A neobank is a bank without branches where all operations are done online. Unlike traditional banks, neobanks have no specific physical location, but instead operate 100% digitally.
Therefore, the neobanks are simply fintech companies that offer a wide range of digital and mobile financial solutions, including:
Checking and savings accounts
Payment and money transfer services
Loans for individuals and companies
Other services, such as budget support among others
It should be noted that, although some neobanks operate with a banking license, the vast majority of these digital entities lack one, so they require other banks to be able to operate normally.
Neobanks vs. Digital Banks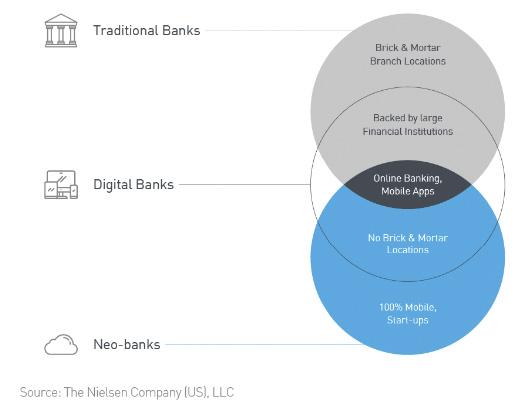 Why neobanks
As experience and customer satisfaction are gaining importance in the financial landscape, a gap has opened up between what traditional banks offer and what their customers expect from them. So, neobanks are willing to fill that niche in the market.
These digital entities owe their rapid growth and low costs to technology: since they do not have branches, maintenance costs are very low, which translates into lower commissions and a more dynamic service for customers.
In addition, the fact that all transactions are made online means that neobanks can occupy a market niche unattended by traditional banks.
On the one hand, neobanks attract that part of the population that expects to be able to do their banking from their mobile phones without the need to go to branches or stand in line at offices.
On the other hand, neobanks are also the perfect hook for SMEs that require online financial services such as a payment gateway, billing software, multiple views of cash management, etc.
In short, neobanks provide the flexibility that traditional banks do not have.
Unlike traditional banks, which have a complex technological legacy, neobanks have a powerful database that is easy to exploit from the outset. With this great advantage, they are able to offer continuous improvement of their services to adapt to the needs of their clients.
How neobanks operate
Neobanks try fundamentally to differentiate themselves from traditional banks, being more attractive to those who are frustrated by the more traditional banks that control the financial market. That is why neobanks are also known as "challenger" banks.
And, because they do not have a physical location and operate entirely online, customer expenses are significantly reduced. By focusing on the customer, neobanks provide customized services to their users through technology.
Strategic decisions are made based on the multitude of data they collect from their users. Because their platforms are also highly modernized, it becomes easier for them to collect and analyze data and understand how their customers behave in the financial ecosystem.
Based on these observations, they create customer segments based on their operations, rather than being limited to just one or two data points.
Types and examples of neobanks
Although initially they may seem very similar to each other in terms of how they manage transactions, there are crucial differences that depend on their licensing system.
In this section, we present the most common types of neobanks with examples of each.
With their own banking license: Most of popular neobanks operate with their own banking license, either specialized or full range. With the right license, they can provide their own checking accounts, prepaid, debit or credit cards, currency exchanges, crypto-currencies, money transfers, retail payments, savings accounts and loans.
Examples: bnc10, N26, Revolut, Monzo, Starling Bank, Atom Bank.
Without banking license: Neobanks that offer financial services, but with licenses from other banks. Customers may already have an account at another bank, which is linked to the neobank service that provides its own unique interface and tools for their bank account operations. The tools could be transaction analysis, budget management and automated notifications to help users achieve their financial goals. Other neobanks also use the license of a partner bank (parent company) to offer their financial products.
Examples: Yolt, Simple, Chime Bank.
Beta Banks: Financial services subsidiaries of a larger and more consolidated bank that wants to reach more customers or develop new products under a different brand. Beta banks can offer their offerings under the license of the parent bank and expand to other countries through the licenses of the partner banks. Services can be limited initially and expanded as they gain popularity.
Example: Bnext, Mettle, Sperbank Direct.
Bottom line
The fact that neobanks do not depend on a physical network and have a totally digital offer, places them at the head of traditional banks and makes them more attractive: both for the younger generation and for SMEs, which are a great growth area for neobanks.
However, it is the modernity and simplicity of their technological systems, their low or zero cost accounts, their higher savings rates and their customized financial solutions that could make them market leaders in the coming years.
REFERENCES
https://www.businessinsider.com/global-neobanks-report?IR=T
https://news.crypterium.com/10-best-challenger-banks/
https://www.americanbanker.com/list/first-wave-of-neobanks-resets-for-new-offensive
Find your business motivation!