Why dizzy your customers by taking them from your social networks back to your website to pay for the sale? Allow them to complete the purchase without unnecessary additional steps.
Social media is transforming the online experience by giving brands and buyers new ways to interact with each other.
Turn your Social Networks into sales channels
Shoppers can find, follow and communicate with their favourite brands through their profiles on multiple social networks. As users spend more time on networks, brands have more opportunities to increase their reach and sales.
Platforms such as Facebook and Instagram are providing brands
with extremely useful sales and analysis tools, thus integrating social networks and eCommerce.
Despite these advances, many brands do not have an adequate payment system, which makes the sales funnel complicated with unnecessary steps, and customers are being lost.
To prevent this from happening, the smartest thing to do is to implement a payment solution for social commerce that captures users right where they are and turns their engagement in social networks directly into sales.
This is where Pay By Link comes in.
Before we get into how you can accept payments through social networks via Pay By Link, let's go a little deeper into the concept of Social Commerce and why your sales success ultimately depends on the payment solution.
Table of contents
What is Social Commerce
How social networks are transforming eCommerce
Pay By Lik: the ultimate payment solution for selling on social networks
3 effective Social Commerce strategies
What are the best social networks to sell online
Final thoughts
What is Social Commerce
Social commerce is the use of social networks such as Facebook, Instagram and Twitter to sell products and services.
The purpose of social commerce is to provide your users with more information and advice about a product and/or service while offering them an easy and fast purchase process, wherever they are.
For example, the user can enter and compare products on Facebook, and make the purchase on the social network itself. Or they can learn about a product from a post on Instagram and buy it on the same brand profile.
This will allow you to create quick and easy sales processes that do not require your buyers to leave the place where they are.
How social networks are transforming eCommerce
Brands and buyers have unprecedented access to each other through Facebook, Instagram, Twitter and other social networks.
The growing use of social networks is undeniable. According to Statista, approximately 45% of the world's population uses social networks, with an average of 2 hours and 40 minutes per day, in 2019.
Daily time spent on social networks by Internet users worldwide from 2012 to 2019.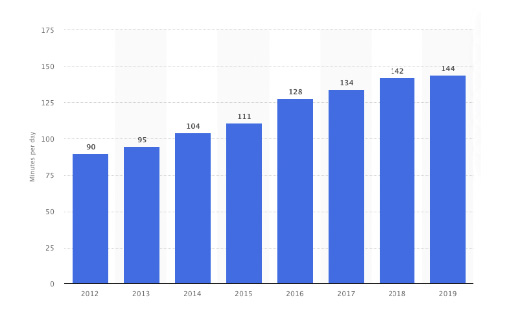 Therefore, we see that the use of social networks is on the rise and seems to be increasing year after year, but what does this have to do with eCommerce?
Well, the numbers tell us that not only the use of social networks has increased, but also the potential to boost sales through the latter.
58% of the millennials, who are becoming the world's largest buying force, have bought a product after seeing it on networks.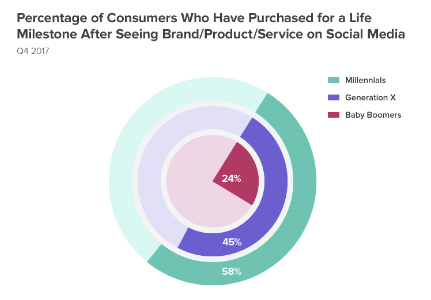 Social commerce, still in its early stages of development, is already having a major impact on online sales.
Therefore, the most logical thing is that the audience that has reached the brand via social networks wants to complete the purchase through those same networks. Bringing the audience from the brand's profile in networks back to your online store is an important step where you can lose a lot of traffic interested in buying.
Fortunately, there is a tool that allows you to make the most of the sales opportunities offered by social commerce: Pay By Link.
Pay By Link: the ultimate payment solution for selling on social networks
Pay By Link is a payment solution without integration that offers a flexible, secure and easy way for your customers to pay easily and quickly with the payment methods they prefer.
Implementing this payment method is as simple as it gets. For each transaction, a payment link is created and included in a message.
It is then shared directly to the client from the social network where they are: via Instagram, Facebook, Twitter, Pinterest, or SMS and Whatsapp. It can even be sent by email or included in a chatbot.
When the customer clicks on the link, they are directed to a secure payment page where they can quickly pay online by card.
Customers can pay 24 hours a day, 7 days a week in the SEPA Zone. Furthermore, payments are made in real-time.
Create and send payment links to your customers within seconds and totally securely with Truust. For more information, get in touch with our team.
In short, a payment link works like a "Pay Now" button. By clicking on the link, customers pay with their desired payment method and the money is then transferred to the seller's bank account within hours.
Learn more about how to start selling through links
3 effective Social Commerce strategies
1. Interact with your followers and improve conversions
Your followers share images of the products they like the most on their social networks every day.
You can take advantage of this content by using it on your website to highlight your brand's community, enhance product discovery and give your potential customers the confidence they need to buy from your eCommerce.
User-created content is not only social proof of your brand's authenticity, but it is also the best way to boost sales on social networks. Making this type of content a key part of your marketing strategy is an easy way to improve your social media conversions.
Airhopping, for example, uses this strategy by publishing photos of its customers' trips.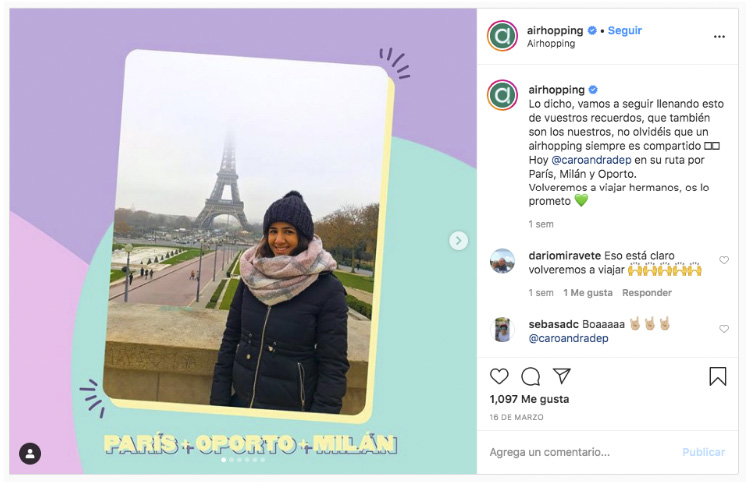 https://www.instagram.com/p/B9zxCv7KtT0/?utm_source=ig_web_copy_link
Increasing the conversion rate of your social networks does not mean limiting the content created by your followers just by posting it on your network profiles. There are other ways to take advantage of the content shared by your users:
In your eCommerce. Present the images of your satisfied customers on your website as a lookbook to encourage more purchases.
Via email. Use your network presence to attract customers through your email list. It has been proven that emails with content created by other users in networks can increase the click rate of emails up to 55%.
2. Optimize your landing pages for mobile devices
The use of the mobile phone as a method of purchase is becoming increasingly important. Therefore, a brand's ability to convert engagement directly into sales can be summed up as creating a seamless shopping experience.
Think about how users move through Instagram, scrolling and clicking as they move from one point to another. Your social networking landing pages should follow the same principles: users should be able to move seamlessly from any device (mobile, tablet, computer, etc.).
For example, all tabs or sections should be accessible, payment options should be easy to click and tap, descriptions and images should be displayed correctly, etc.
It is important to note that the landing pages that will take your followers from your networking profile to your eCommerce should not be hidden. Like FableticsEU, you can promote your eCommerce in your Instagram biography by including the hyperlink to your landing page.

3. Do A/B testing or split testing of your social media content
Like any type of marketing metric, social media conversion rate analysis means analyzing data.
Thanks to the metrics of your network profiles, you can know what type of posts have higher engagement in order to adjust your content strategy. It's all about "playing around" with different strategies while analyzing the metrics and optimizing the content based on the results.
By regularly looking at your statistics, you can test your organic campaigns to find out which posts are the most suitable to increase engagement.
If you are interested in running a paid campaign, Facebook and Instagram allow you to test your ads automatically. That is, you can run two versions of the same promotion simultaneously and identify the best option based on its performance.
This Facebook infographic is a clear representation of split testing in social networks: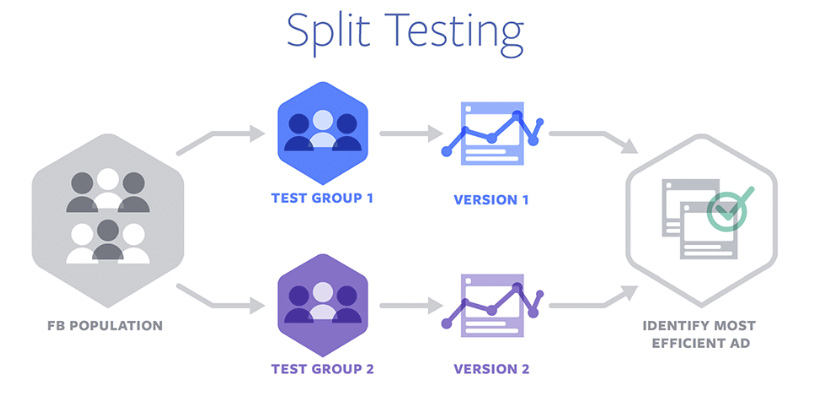 What are the best social networks to sell online
Social commerce is here to stay, but is your business making the most of the access to sales channels that social networks provide?
Here's a review of the best social networks to help you get the most out of them.
Facebook
Facebook is a social network of excellence. Frequently, the platform adds new functionalities to make it easier for users to share how they feel, what they are eating or watching, where they are, as well as photos, videos and GIFs.
Facebook Ads, the advertising platform of Facebook, is by far the most developed of all social networks. It offers multiple functionalities that will allow you to segment your campaigns:
Interests and behaviours.
Demographic data.
Customized audiences.
Similar audiences.
This gives your brand the power to focus on its exact audience and enhance the campaigns and content of its feed.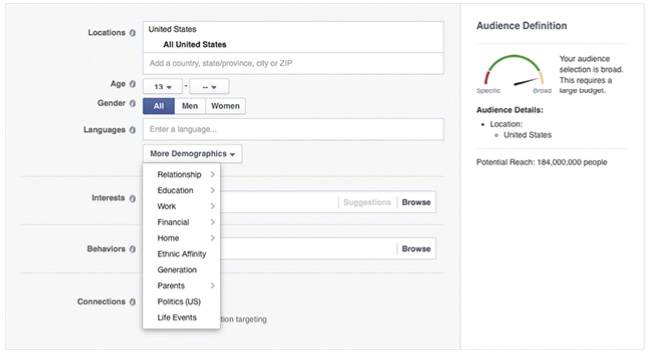 SOURCE: https://neilpatel.com/blog/optimize-your-social-media-ad-spend-with-advanced-targeting-options/
From awareness to purchase, brands can address the user's function through various targeting or segmentation options, including:
Dynamic Product Serving. Facebook automatically offers product ads based on the seller's most relevant inventory. This automatic targeting is based on users' interests and locations, among other aspects.
Manual Product Selections. Manually displays product ads based on a chosen product segment. This targeting option allows the seller to present, for example, their best-selling items.
Multi-Product Ads. Allows companies to display three products in a single ad. Each featured product will have its own image, description and click target.
The combination of good content and A/B split testing, along with your campaign performance data, makes Facebook Ads a powerful social commerce tool to boost your online business sales.
Instagram
Since Facebook owns Instagram, it has access to the same large user base and advertising platform. Therefore, Instagram has the same paid benefits as Facebook, but it also has a number of organic benefits.
When we use the term "organic," we are referring to the functions you can perform or the results you can achieve without having to pay for them directly.
On Facebook, you have to pay for advertising campaigns to grow your followers and increase the reach of your page and posts. On Instagram, you can grow your followers entirely organically and thus increase the reach of your content organically as well.
This makes Instagram a great option for companies with and without advertising budgets. However, Instagram has a couple of limitations that need to be considered before planning a social commerce strategy:
Currently, the only way to share posts on Instagram is through a mobile device (smartphone or tablet) using their app. This means that you cannot post on Instagram from your website.
Instagram does not allow hyperlinks in the description of posts. Only one hyperlink can be included in the biography, making it difficult to access the brand's website from your user profile.
Nevertheless, Instagram is the leading sales channel among social networks. There are several strategies you can use to improve your business' presence on Instagram:
Social Lookbook. This strategy works very well for clothing, accessory, and home and garden product brands. Using this strategy, the brand IG profile is the perfect place to highlight the best images of your products, and Instagram can become another distribution channel for your seasonal lookbooks.
A good example of a brand using this strategy is Brownie.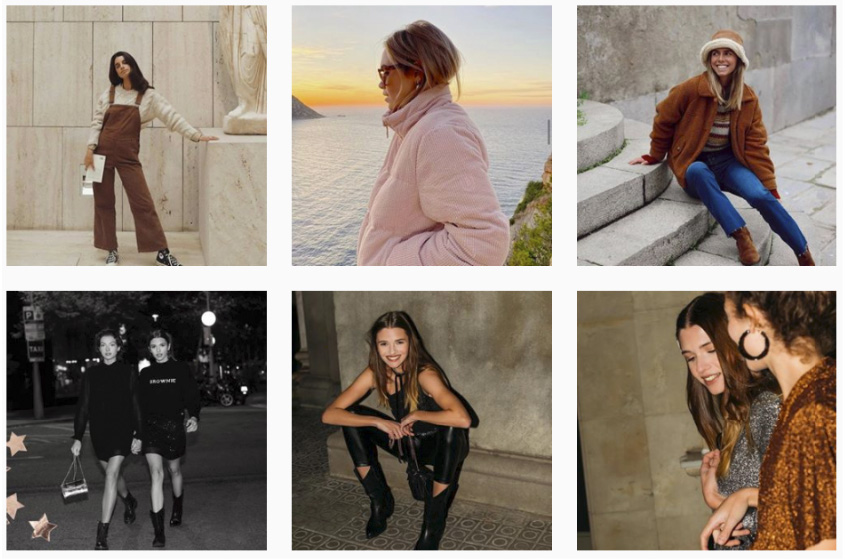 @browniespain
Visual News. Another great way to use Instagram as a sales channel is to turn your company's news and events into short stories that can be captured in a photo or video on your feed. For example, showcase new product launches, share photos from a recent event, create hype by previewing upcoming products, or simply highlight your brand's special events, awards and promotions.
User-generated content. Finally, remember that uploading the photos and videos your clients have shared on Instagram (known as regramming) is a good way to add value to your feed. An example of a brand that bases its feed on customer-generated content is GoPro.
@goproes
Pinterest
Statistics for 2020 show that Pinterest has over 335 million active users each month. Of those users, 71% are women, 93% of active pinners say they use Pinterest to plan their purchases, and 83% say they have bought something thanks to Pinterest.
Pinterest describes itself as "the visual bookmarking tool that helps you discover and save creative ideas". Simply put, Pinterest has adapted the concept of dashboards online along with an important social component, making it a truly popular social network.
The way it works is quite simple. Pinterest users create "boards" and then add "pins" of interesting things they find on the Internet. Any Pinterest user can follow other profiles to see the new pins they add to their boards, as long as they are not private.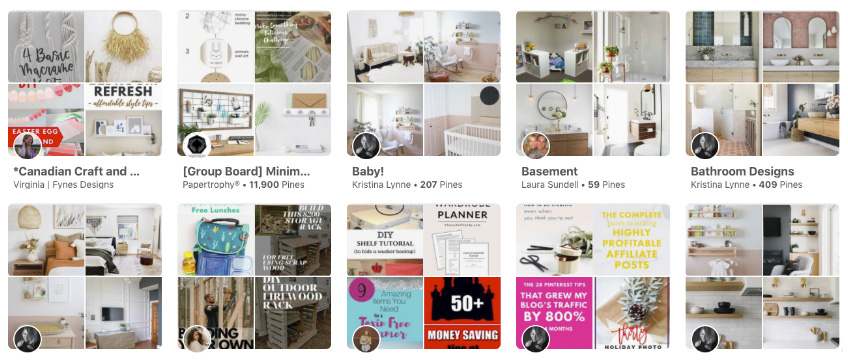 The most interesting thing about Pinterest as a social commerce channel is that active Pinners are 47% more likely to plan a major event in the near future. Whether it's a wedding, a home remodelling, a dinner or a party, users are more receptive to new ideas and new brands.
Although Pinterest's ad platform is not as advanced as Facebook's, you can use paid ads to increase the reach of your posts and track online conversions through your Pinterest promotions.
In addition, Pinterest has some organic capabilities that other social platforms don't have. The organic reach in a Pinterest post is determined by the number of keywords in a post and whether they match what a user has searched for on Pinterest.
Twitter
Twitter is also an interesting option to attract new potential customers through the use of hashtags. Similarly to Instagram, you can search for a hashtag and find other posts from consumers and businesses that have used that same hashtag.
Twitter is similar to Pinterest in many ways, especially in that users follow other people they don't know to keep up with their interests. At the same time, while Pinterest is seen more as a search engine for potential purchases, Twitter is considered a tool for receiving the latest news and updates in real-time. On the other hand, while Pinterest is a totally visual tool, Twitter is mainly focused on the text.
So what does this imply in the world of eCommerce? When developing Pinterest strategies, the main focus is on the image, but when it comes to Tweets for a brand, the focus must be on the copy.
So what does this imply in the world of eCommerce? When developing Pinterest strategies, the main focus is on the image, but when it comes to Tweets for a brand, the focus must be on the copy.
Although images of up to 5 MB can be included, the copy is the part of the tweet that should cause the impact. Only 280 characters are allowed to do this, so it's important that it's clever, clear and includes a call to action. While at Pinterest the use of hashtags is usually not very useful, on Twitter the opposite is true. You have to use hashtags to help categorize the Tweet so that it appears to users who use the search tool.
However, while Twitter remains one of the most popular social networks, it doesn't necessarily have the same impact as Facebook or Instagram campaigns, especially in the retail sector.
In addition, although Twitter's paid ad platform is very practical, many retailers see this social network as a small paid advertising channel with low volume, low conversions and insufficient CFC average (average of 0.40 per click).
Final thoughts
With mobile phone use on the rise and users spending more time on social networks, turning brand profiles into sales channels has become imperative.
It makes sense for online businesses to take advantage of these trends by starting to sell directly on the social networks in which their audience seems to be most interested.
Thanks to Pay By Link, brands are able to simplify their payment process and turn customer interaction on social networks directly into sales.
Whether you have a business with a website, or if you only have a presence on networks, this is the right time to turn your social media into sales channels.
Do you already offer the social commerce solution that your customers expect?
References
https://www.bigcommerce.com/blog/ecommerce-trends/#14-ecommerce-trends-leading-the-way
https://wearesocial.com/us/blog/2017/11/three-steps-in-implementing-a-social-commerce-strategy
https://www.pewresearch.org/internet/2016/12/19/online-shopping-and-e-commerce/
Find your business motivation!