Buying in stores in the USA often means buying unique, quality products, which is why more and more people are deciding to buy from American online stores. Moreover, online shopping has the great advantage of finding great prices that end up being very affordable, even if there are shipping costs.
Previously we presented the 5 best Chinese stores to buy online, a market that allows you to save on purchases and even serves as a supplier for various e-commerce. Today we present you a list of the most interesting online marketplaces in the United States that you may not have heard of (we imagine that you have already heard about eBay, Etsy, Apple or Amazon).
Global Net Sales (2020): $629.4 million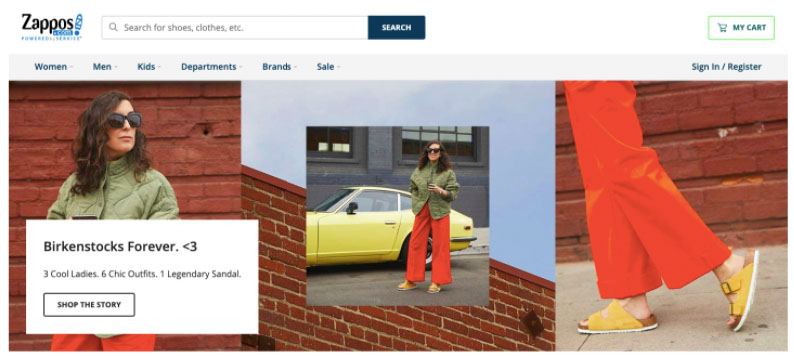 👍 What We Like
👎 What We Don't Like
Free standard shipping in all orders.

Free return on articles you don't want.

Fast and effective customer service.

The product selection is more focused on clothing rather than footwear.

Some orders arrive in generic boxes instead of the original brand packaging.
Having sold 629.4 million dollars in 2020, Zappos is the largest online footwear store in the world, although it also has an extensive catalogue of clothing and accessories for men, women and children. The products have quality photos that may be enlarged, something that serves to better appreciate their textures. In addition, shoppers can leave their opinions and rate their comfort, style and overall rating.
This online store is known in the industry for its excellent customer service, with many stories of Zappos employees going above and beyond to ensure a good shopping experience.
Global Net Sales (2020): $13.5 million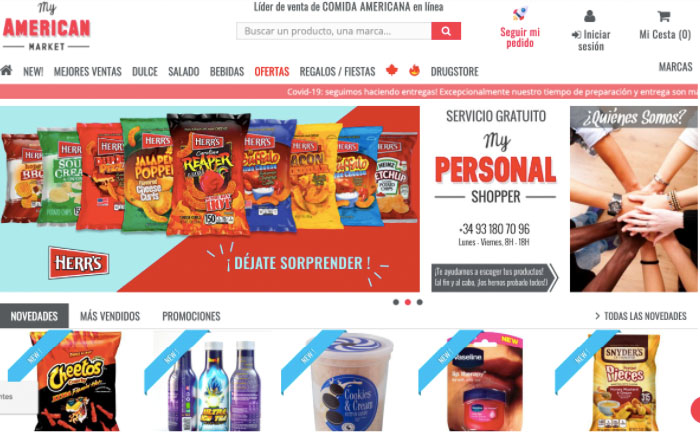 👍 What We Like
👎 What We Don't Like
Great selection of the most popular American products.

Multiple payment methods, including the possibility of paying through their call centre.

Customer service receives mixed reviews.

Some orders may arrive later than the minimum durability date of your products.
If you want to buy American groceries online, My American Market is your place. This is a French e-commerce site that sells all kinds of drinks, chocolates, soft drinks, snacks, candies, prepared food, cookies and pastries from over 700 brands from the USA and the UK. Even though it is not an American store, you will definitely feel like you are walking through an American supermarket.
Global Net Sales (2020): $2,403.9 million
👍 What We Like
👎 What We Don't Like
Fulfilment services for merchants.

Discounts on higher-volume purchases.
Lower commissions fees than any major marketplaces.

Delivery times depend on the reliability of the seller.
Are you a big fan of computers, video games and technology in general? Newegg is the largest hardware store in the USA and one of the most important in the world. The variety of products is infinite and it has an amount of stock that does not generate problems, even with the latest releases.
As for its product range, newegg.com achieves most of its net eCommerce sales in the category "Electronics and Multimedia". In addition, they also offer products in the "Toys, Hobbies and DIY" category.
On the other hand, if you're thinking of selling technology products online, Newegg might help. This marketplace serves almost 25 million users each year, so advertising as a merchant in this online store can help you reach a large number of potential customers, which can translate into more sales for you.
Global Net Sales (2020): $6,805.7 million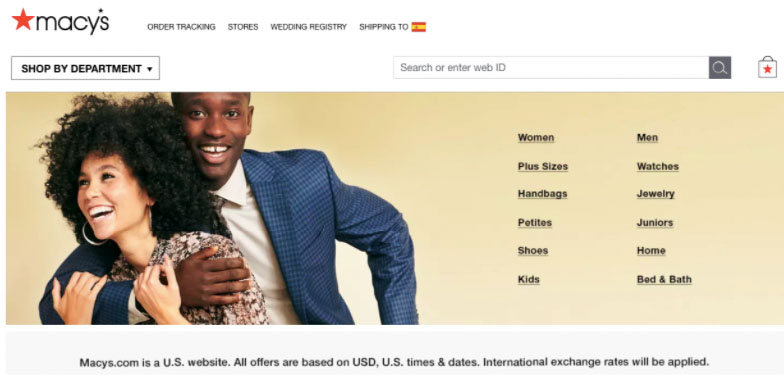 👍 What We Like
👎 What We Don't Like
Very knowledgeable workers about the company's products.
Deliveries don't always arrive promptly.

Customer service can be hard to get a hold of.
Considered for many years to be "the largest store in the world", Macy's is expanding and now allows purchases to be shipped to countries such as Spain. And that's because Macy's is one of the oldest and largest department store chains in the U.S., with over 500 stores nationwide.
Its most famous store is located in New York's Herald Square and there and on its website you can find clothes, shoes, bags, jewellery, watches and everything you can imagine related to women's, men's and children's fashion. It also offers many home decoration items. In addition, Macy's is not only known for its wide selection of products, but also its incredible offers and promotions.
Global Net Sales (2020): $2,307.4 million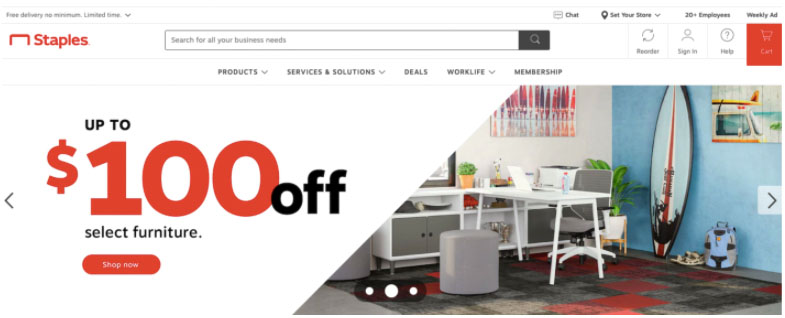 👍 What We Like
👎 What We Don't Like
Discounts on bulk purchases.

Multiple payment methods.

Premium service for customers with recurring orders

Moving around the website is quite tedious.

Staple's product selection is very limited for shipments outside the United States.
Staples is a US online store specialized in office supplies. It sells to Spain through Kalamazoo and is focused on companies, as it offers very competitive prices if many units are purchased. Some articles are also very affordable for small purchases, such as office furniture or electronics.
If you are looking for a supplier of products for your office supply eCommerce, Staples can be a good and interesting option. They offer a wide variety of products at good prices and focus mostly on serving regular buyers who place recurring orders.
Global Net Sales (2020): $112.7 million.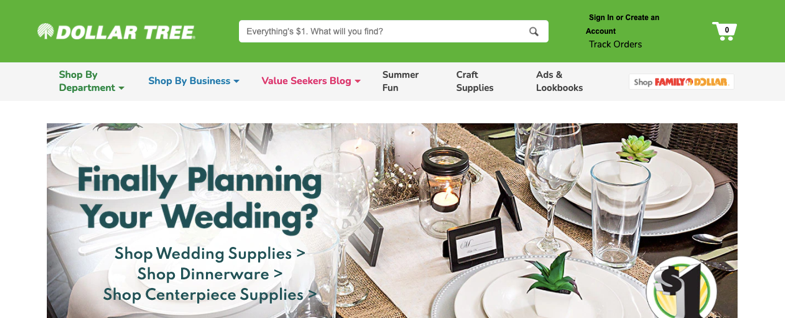 👍 What We Like
👎 What We Don't Like
Everything you buy costs just $1.

There are more than 2,200 articles on the online shop.

Most of the products cheaply made and don't last very long.

Isn't always the cheapest price you can get.

Do not accept manufacturer's coupons.
Depending on what you want to buy online, Dollar Tree might be one of the best places to look. You can find things like party and wedding decorations, toys and games, kitchenware, cleaning supplies, arts and crafts supplies and more.
The best thing about shopping at Dollar Tree is that everything you buy costs just $1. You can't get much for so little these days
Conclusion
We have just presented (what in our humble opinion are) the best online marketplaces in the USA to buy or sell your products in 2021 (and in the years to come). If the latter is your case, as a merchant you just have to choose the one that best suits your specific needs and start selling online.
All the USA online stores that we have shown you offer several payment methods so that the user can choose the one that they prefer, thus achieving a greater number of sales and fewer abandoned shopping carts. This is a practice that you should also apply in your eCommerce or Marketplace if you have one.
If this is your case, you don't have stock, but just present the inventory of other people to your users and facilitate their purchase process. To do so, we recommend you add escrow to your payment options, as this is the safest payment method available.
Contact us if you want to know more!
Find your business motivation!