The FinTech sector has improved and expanded its range of services worldwide, stimulating change in the financial services market. But in which market sectors are FinTech startups setting the trend?
"FinTech" is no longer just another concept in the banking sector, but has become a familiar term in technology in general. Global investment in FinTech companies has doubled to a massive $112 billion, compared to $51 billion the previous year. This is more than proof that the digital revolution is on the doorstep of the financial sector.
This revolution caused by more and more fintech startups and fintech banks is having an enormous impact on all banks and financial institutions worldwide. But what is FinTech itself?
What is FinTech
The term FinTech is derived from the union of two words: Financial Services and Digital Technology. In short, FinTech refers to the use of digital technology by startups to create innovative products and services such as mobile payments, alternative finance, online banking, big data and financial management in general.
What is a Fintech?
FinTech companies are organizations that combine innovative business models and technology to enable, enhance and transform financial services.
FinTech was initially introduced as a technology used in the internal systems of financial institutions and banks. However, since its introduction, its definition has changed significantly.
It now encompasses several consumer-based applications: you can sell stocks, manage funds, and pay insurance and other expenses through this technology.
FinTech for banking has impacted numerous areas and has revolutionized the way consumers access their finances. Its presence ranges from mobile payment apps to investment and insurance companies. This enormous FinTech impact can be seen as a potential threat to traditional banks, but also as an opportunity.
Banks have a growing role in the innovation ecosystem if they know how to form strategic alliances with Fintech startups, which come with the promise of disrupting the major players in the financial world.
The rapid change to the FinTech era
In today's digital age, customers are not willing to settle for the services offered by traditional banks. Instead, they prefer to opt for services that are fast and secure. This is why FinTech companies are gaining popularity and disrupting the banking and other financial services.
The real threat to traditional banking comes from fintech startups that are undermining key parts of their franchises.
Thanks to FinTech, problems that traditional banks have such as having to have a certain amount of antiquity in the bank, waiting in line at the offices, filling out endless forms, providing countless documents and even waiting several weeks for a simple approval, could disappear completely.
In addition, a great advantage of FinTech banks and FinTech companies is that the vast majority offer commission-free loans. Today, traditional banks are facing a strong competitor, and have intensified their efforts by offering the possibility to apply for personal loans online and with hardly any paperwork. They are trying to compete with FinTech companies.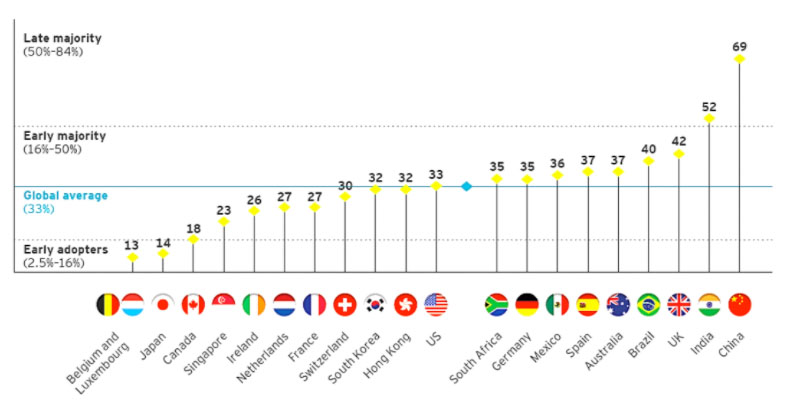 Evolution of FinTech adoption globally and in 20 markets (Source: EY 2017).
Consumers like what they see. Adoption of FinTech services has been steadily increasing, from 16% in 2015, the year the first FinTech Adoption Index was published, to 33% in 2017, to 64% in 2019. General awareness of FinTech, even among non-adopters, is incredibly high today. Worldwide, 96% of consumers know of at least one alternative FinTech service that is available to help them transfer money and make payments.
Global adoption
Global adoption of FinTech has reached 64% and is widely spread in all markets all over the world.
The figures show that Fintech is expanding into a wide range of areas in the financial services sector and it is therefore important for companies in the sector to keep up with the growing demands.
But how exactly is Fintech affecting financial services and in which segments is it causing the biggest impact? Let's dig a little deeper.
The 4 main business areas of FinTech 
FinTech companies are driving changes in the marketplace by focusing on emerging technologies that will provide a completely new experience for their customers. As today's players adapt to the market and begin to focus on these technologies, they will be able to approach FinTech, use the technologies to quickly adapt to the rapidly changing ecosystem and regulations, and ultimately provide a better user experience.
Therefore, it is important to highlight the following four business pillars: asset and wealth management (AWMs), consumer banking, insurance, and payments and transactions services.
1. Asset and Wealth Management Services (AWMs)
In this business area we find banks and companies dedicated to helping those seeking advice on managing their wealth in order to achieve a number of different objectives, such as investment-based growth, asset transfer or tax reduction.
The agents of this business pillar are too conformist with the FinTech revolution to take full advantage of the opportunities it offers. However, they are aware that the presence of FinTech in the industry is a consolidated reality, since
41% believe that their clients are already doing business with FinTech companies and
60% see their wealth management activities at risk of moving to a FinTech.
Although sceptical, asset and wealth managers continue to invest in new technologies. They believe that FinTechs have the greatest potential to improve the client experience, but most of their real interest is in data analysis and automation of asset allocation, areas typically associated with "robo-advisors".
They seem to be following the traditional approach to innovation, and prefer to focus on short-term initiatives rather than considering new market improvements. The "FinTech mindset", still in its infancy in the AWM industry, makes it difficult for agents in this business area to understand and take advantage of the trends in FinTech developments that are transforming the market.
2. Consumer Banking
The banking sector will continue to be the most affected business area by the FinTech revolution during the coming years. With the key talent and more and more investors coming into the FinTech sector, traditional financial institutions are forced to act quickly.
Banks around the world continue to work to simplify their businesses and reduce their reliance on traditional infrastructure. This, however, is a complex task due to the heavy regulation they are subject to.
Banks have realized that they cannot change and adapt as quickly as Fintech companies and, therefore, most of them have started to look for ways to finance Fintech startups that create products that can be incorporated into the banks' own services to improve the experience of their clients.
This will allow the Fintech industry to empower even the most traditional banks to offer better services to the end user.
You might be interested: Neo Banks: what are they and what are their advantages?
3. Insurance
Insurance companies have intensified their efforts to follow the trends that are transforming the market and closing the gap with other financial sectors. Although Insurtech is rapidly becoming an industry in its own right, it still belongs to the Fintech sector.
Insurance is slow in adopting new technologies, and many Fintech startups are partnering with traditional insurance companies to help automate processes and expand their range of services. From mobile car insurance to wearables for health insurance, the industry is beginning to embrace innovation.
In addition, the increasing complexity of data models and analysis to better identify and quantify risk is considered the most important trend and one that the market is most likely to respond to. As a result, insurance companies are adopting innovation focused on data analysis and many of them plan to invest in it in the coming years.
4. Payments and Transactions Services
In this area we find all the platforms used to check account balances, make payments and make transfers online, without having to go to the physical office. Although many banks already offer this option, fintech startups are the most innovative in this sector. Nowadays, sending money digitally to any part of the world has become easier than ever. Some of the most popular payment companies are Zelle, Paypal, Stripe and Square.
Payments companies have been following the FinTech boom and the implications for their market, and are investing in technologies, such as data analysis, mobile and cyber security, that reflect the most important trends for their industry. Payment companies are also investing heavily in blockchain technology and the vast majority have already adopted it in their system.
FinTech trends in 2021
FinTech is a growing industry with endless possibilities to improve our financial systems. Some financial technology trends we will see in 2021 are: the rise of robo-advisers in the stock market, the use of blockchain in anti-money laundering systems, the implementation of alternative credit reporting and the decentralization of global payments.
FinTech for the future of the financial sector
Although advances in the area of financial technology have been occurring at the speed of light, we have only begun to see the tip of the iceberg of all that is to come in the years ahead. FinTech is reshaping our lives and habits, facilitating trading, banking and money exchange without the need for physical interaction.
Nevertheless, the financial sector still has many challenges ahead, especially in the area of regulation and data protection, to gain consumer confidence and for FinTech to truly dominate the market.
With big data, blockchain, AI and so many other technological advances already in use or on the table, financial industry leaders must look for opportunities and adopt FinTech solutions in their own business models to reach out to tomorrow's consumers.
Find your business motivation!