One of the most popular topics among the business community in recent years is the concept of crowdfunding: collective financing through an online platform.
This is a great tool that can be used to raise the capital needed to create a new business, finance the growth of a company or drive the development of services or products.
New crowdfunding platforms are appearing more and more frequently to meet the needs of this expanding market.
In fact, in the last 5 years, the popularity of this concept has been increasing, according to Google Trends:
But how do you build a crowdfunding platform? There are many important factors to consider if you plan to create your own crowdfunding page.
Table of Contents
Choose your business model and find a crowdfunding niche
Use the right technology for your platform
Choose your payment service provider
Make sure your crowdfunding meets all requirements
Business models, payment processing and transfers of donations to project owners can seem quite complex tasks at first glance. In this article, we will examine in depth the best practices and cost of developing a crowdfunding platform.
Now, processing payments on your Crowdfunding Platform is very simple. Create your own payment flow with Truust and start connecting people with innovative projects.
You are just one click away of managing your crowdfunding payments in the easier way possible
If you still need to give the idea of creating your own crowdfunding a little more shape, you can get some inspiration from these examples of crowdfunding platforms, considered to be the best in this sector.
But now let's get down to it and see in detail exactly how you can win with your crowdfunding platform, how it will operate for your customers and what you need to know to create one.
Choose your business model and find a crowdfunding niche
Think about your business model before getting into any project specification or contacting web development agencies.
The first step is to think about how you want to make a profit, as this is the core of your crowdfunding business. As we mentioned at the beginning of this article, the current crowdfunding market has many business models to choose from:
Reward-based crowdfunding
Equity-based crowdfunding
Donation crowdfunding
Debt-based crowdfunding (P2P lending or crowdlending)
Hybrid crowdfunding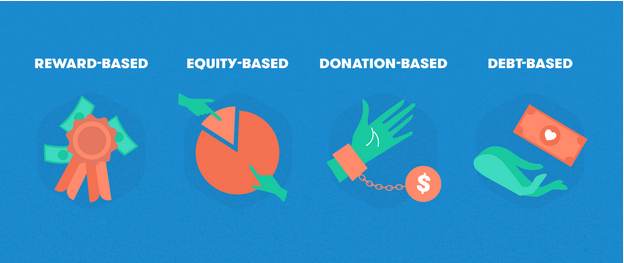 Similarly, each new platform is designed to meet the capital-raising needs of a particular niche. This means that the site will host crowdfunding campaigns for a particular cause, or a specific type of project. This is because large crowdfunding platforms already dominate the industry: there is no point in trying to compete with the largest crowdfunding platforms, as you are likely to be the one to lose out.
Today's most popular crowdfunding sites have taken years to develop and consolidate their position in the market, and have a large flow of visitors, campaigners and donors. For that reason, to accelerate the success of your own platform, you should choose a particular niche that is not yet established in the crowdfunding industry.
Choosing a niche helps differentiate your crowdfunding from others, and can also bring value to the creators and sponsors of your campaigns. The creators of the campaigns in the particular niche you choose will benefit from using a newly created platform to gain more recognition from other users who feel comfortable supporting other campaigns on the website. It's a good way to attract sponsors.
Use the right technology for your platform
Find the right technology you want to use for your crowdfunding page. Not all technology is paid, but when it comes to launching a successful crowdfunding platform, you need to make sure there are no mistakes so that users have the best possible experience on your platform. If you use free Crowdfunding software, don't be surprised if something doesn't work as expected later.
Choosing a SaaS (Software as a Service) product can give you real-time technical support. This way, you can get your platform up and running quickly, with as few problems as possible. And in the event of an error in the operation of your platform, you receive immediate assistance to solve it.
There are several crowdfunding software solutions that offer a ready-made infrastructure, which can take less than 3 months to set up a crowdfunding website with the back office they offer. These products offer a crowdfunding technology that comes with specific business flow and has all processes thoroughly tested and verified. Furthermore, by choosing a SaaS product for your crowdfunding platform you will save yourself all the long process involved in coding, as you do not have to build the back office from scratch.
Even if the SaaS product you choose already has several predefined features, it is quite possible that through its API you will have the possibility to make customizations and integrations with other systems.

For example, the Truust API allows you to set up any payment flow, e-wallets, use escrow accounts, and split payments on every transaction. Similarly, CrowdValley technology also allows you to design the front end of your crowdfunding platform according to your brand preferences.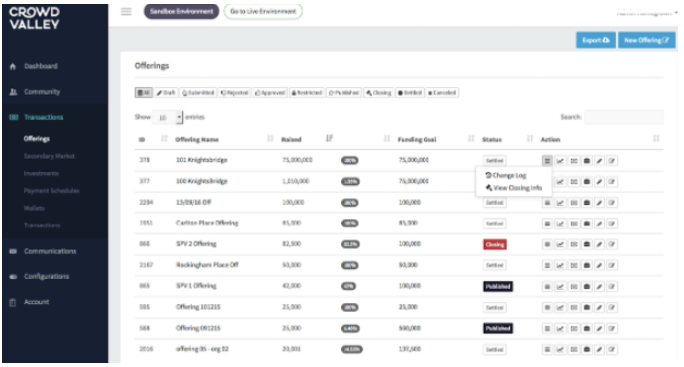 This way, no one has to know that it is Truust, CrowdValley or another partner who takes care of your platform's back-office.
However, before making a final decision, we recommend that you make a list of the requirements that the technological solution you choose for your crowdfunding must meet. This way you can better compare the possible options and evaluate which partner best suits the specific needs of your platform.
Choose your payment service provider
When it comes to choosing the payment gateway for processing transactions on your crowdfunding platform, the options are endless. However, not all of them offer excellent support, the necessary features and adequate documentation.
The typical feature set required for a crowdfunding page is the creation of online wallets, the definition of payout schedules, the adjustment of interest rates and the return of funds to investors in case the campaign has not been fully funded. In addition, your crowdfunding should have a good method of saving the money from the contributions and transferring it to the project owner after the term is over.
Although the first payment gateway that may come to mind is PayPal or Stripe, we encourage you to consider other options as well. LemonWay, Reyker or GCEN, for example, are some of the many payment providers specifically adapted to investment and crowdfunding processes and operations.
If there is one thing in particular that we are committed to, it is providing you with the best tools to process your business' payments. Contact our team to get the ideal solution for your investment and crowdfunding platform.
Once you have chosen your payment service provider, you will need to know whether you will offer "all or nothing" financing, or flexible financing.
Fixed or "all or nothing": this system will only allow the creator to receive his funds once he has fulfilled the objectives of the campaign.
Flexible: this system allows the creator of the campaign to receive part of the collected funds regardless of whether the objective has been met or not.
Along with a payment gateway, you can also set up some templates for the promotion of investment projects. The more communication options you offer your customers, the more successful their campaigns will be and the more likely they are to use your platform again and recommend it to their contacts.
Make sure your crowdfunding meets all requirements
Below is a list of some of the features you should consider if you decide to start your own crowdfunding platform:
Solvency rating management
KYC and AML
Verification of identity
Statistics and financial reports
Personal finance management
Multiple accounts support
Account Tracking
Data Security
Management of transactions
Back office administration
Frequently Asked Questions or Support Page
And some technical aspects to consider:
Traffic
SSL Certificates
Methods of payment
Web servers
Mobile Traffic Optimization
Don't forget that the user experience must not only be secure but also simple and direct. Make sure both investors and project owners understand where they can find specific information. Implement a clear structure and navigation and make the website work perfectly on all devices.
Side note: no matter how you decide to create your crowdfunding platform, never overlook the legal aspect
Make sure you have a good lawyer who is willing to help you, and never assume that your platform is risk-free: we all know that nothing is 100% risk-free. Especially if your crowdfunding involves real estate or stocks, the law is not something to be taken lightly. A great advantage would be to have someone with extensive experience or training in the banking and financial industry on your team.
⚠️ Requirements for operating your Crowdfunding in the European Union 
Make sure the donations processing of your crowdfunding platform:
✓ offers optimal compliance with the model in Europe
✓ meets all PCI obligations with tokenization
✓ has PCI DSS level 1 certification
✓ is approved by leading European regulators
All set to create your own crowdfunding?
Crowdfunding platforms are not only about making a profit. Depending on the sector, a crowdfunding platform can help you and your investors find that sense of accomplishment we all look for.
Entrepreneurship in the crowdfunding sector is like starting any other business: it is always difficult until it is easy. From small businesses to large multinationals, at Truust we help many online businesses manage their day-to-day payments. We will be glad to help you create your own crowdfunding platform, improving payment control and offering you maximum transaction security.
Whether you already have a crowdfunding page or are thinking of creating one, send us a message. We will be happy to discuss it with you and suggest a solution that fits your needs.
Find your business motivation!