Sharing economy is about the temporary transfer of use of products that are lent, exchanged or shared. This can be observed in both private and business environments.
The environmental impact of sharing, renting or exchanging from the field of the sharing economy is mostly viewed from a sustainability perspective and accordingly associated with a reduction in resource consumption and increased resource efficiency.
So, let's find out more about sharing economy sustainability!
What is the sharing economy?
The term sharing economy refers to the systematic lending and mutual transfer of tangible (e.g. objects, premises) and intangible property (e.g. knowledge).
The sharing economy has already disrupted many traditional industries and is expected to continue to grow.
Companies with sharing economies have four characteristics in common:
they are digital platforms that allow offline transactions between users;
they allow for peer-to-peer transactions in which both suppliers and consumers are mostly ordinary citizens or micro-entrepreneurs rather than large businesses or corporations;
they emphasise temporary access rather than ownership;
they provide access to unused physical or human opportunities (an empty room, a parked car or seat, a barbecue, someone's skills, talent or time).
You can also read our article about what is sharing economy for more information about that.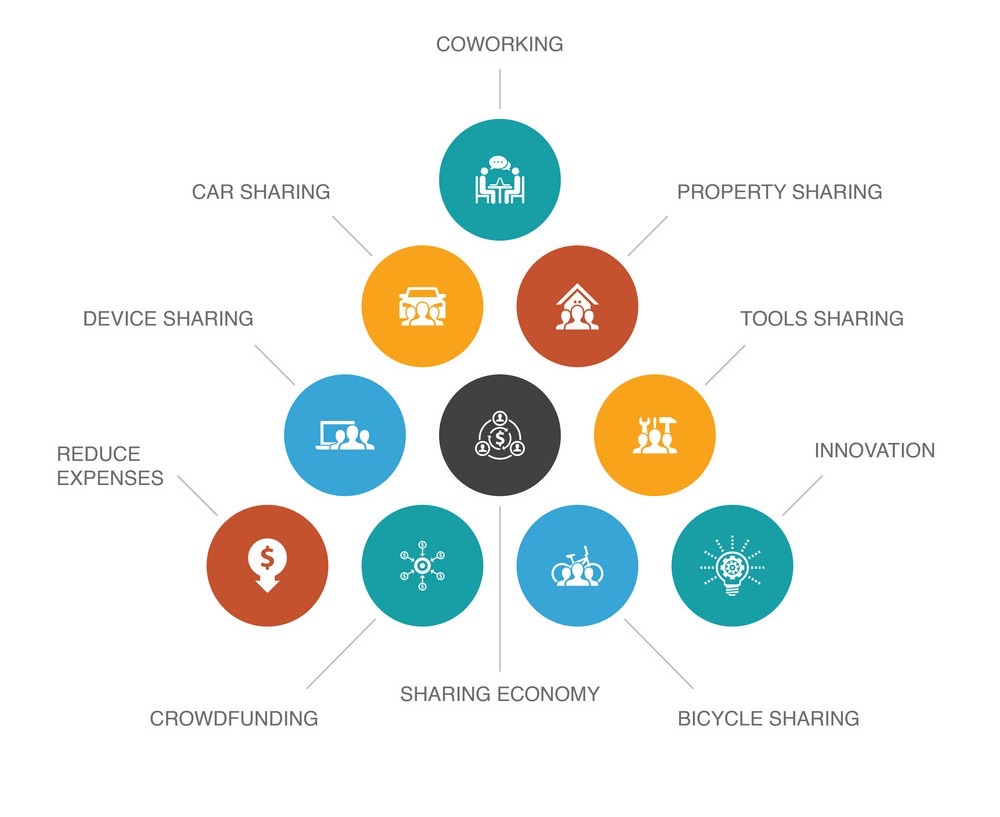 Basic Sharing Economy conditions
The most important trend-promoting conditions of the sharing economy include:
Increased digitalisation (apps, mobile internet and social media platforms act as online marketplaces for more efficient sharing);
Changing value and consumption preferences.
Concepts or business models of the sharing economy are, for example:
Transport-sharing systems – mobility (BlaBlaCar, Turo)
Tutors-sharing systems – knowledge (superprof)
Goods-sharing systems – renting (peerby)
Accommodation-sharing systems – accommodation (Airbnb, Homeaway, Couchsurfing).
Service-sharing systems – shipping (piggybee)
Here you can find inspiring startups pioneers in the sharing economy.
What impact does the sharing economy have on the environment?
On the one hand, the sharing economy has the potential to reduce harmful environmental impacts:
Fundamentally reduced material and resource consumption.
Lower water consumption in some cases.
Reduced soil sealing (e.g. fewer hotel buildings due to more intensive use of AirBnB or Couchsurfing offers).
Changing the basic conditions of production and consumption.
Sharing is also an important aspect in the context of education for sustainable development, as only knowledge of the existence of alternative forms of use and the effects associated with them provides a good basis for decision-making when it comes to choosing between different consumption alternatives.
For the providers involved in sharing offers, the priority of a good or service is the actual benefit and not the possession of a good.
From the user's point of view, this results in various advantages that are most economically motivated but can also have ecological and social motives.

The supply structure is diverse and includes both long-established models and highly specialised offers such as the rental of luxury bags, tools or one's own living room couch as overnight accommodation.
Based on social and technological transformation processes, rental, exchange and sharing options are multiplying at a rapid pace and are often supported or made possible by (social) media.
In addition, internet platforms offer a wide variety of groups of actors the opportunity to participate in these processes and to change the basic conditions of production and consumption.
Environmental impacts of….
Transport-sharing concepts
Due to the complexity of this new industry segment, it is difficult to fully assess the environmental impact of the ridesharing economy. But the concept of ride-sharing has its clear advantages:
Considerable resource and energy efficiency potentials are achieved through lower consumption and emission values of transport-sharing vehicles like cars or planes.
This is mainly because the majority of transport-sharing vehicles are low-powered and technologically new, small or microcars.
Car-sharing services can contribute to relieving the traffic situation.
Studies assume that for every car-sharing vehicle, four to eight vehicles can be replaced and the corresponding users can often forgo the purchase of a private car or second cars can be eliminated.
A potential reduction in the number of cars can therefore lead to emission and resource savings and relieve the pressure on public transport areas.
Station-based car sharing has enormous potential to promote electromobility through charging stations and to integrate it into the daily routines of users.
Accommodation-sharing concepts
Homestay accommodation through Airbnb and other similar initiatives can:
Lead to lower CO2 emissions, as these properties can generate fewer emissions than hotels;
This is because hotels tend to have more energy-intensive facilities such as bars, restaurants, swimming pools and 24-hour operations.
Help to produce less water and waste than accommodation in a hotel.
A study commissioned by Airbnb found that its users' energy consumption was reduced by at least 88% compared to hotel guests.
Reduce demand for new hotels in the long term.
This will reduce CO2 emissions and local pollution from the construction process and the production of building materials, as well as the generation of waste from leftover materials, etc.
Goods-sharing concepts
Several share economy initiatives bring people together to rent various small things such as tools, clothes, etc.
This concept of sharing can also lead to a reduction of emissions.
Private tools are only occasionally used. For example, according to one study, an electric drill is only used for about 18 minutes during its lifetime.
Or, for example, if a dress that is supposed to be worn six times and then thrown away is instead recycled several times, this could save some CO2 emissions or reduce the purchase of new clothes.
Service-sharing concepts
There are sharing economy companies that provide correspondence services such as small goods transport, errands, cleaning services, painting, gardening, maintenance, etc.
Their environmental impact depends to a large extent on whether the services can be provided remotely or require the user to be present to provide them.
The impact of these shared services on the environment depends on whether the provider drive more. It depends on what the alternative to providing the service would be.
Conclusion
The sharing economy model is based on values such as sustainability, ethics and the distribution of wealth to all members. This system requires a certain level of trust (in the idea, in the product and service platform and the user) to work.
In the long term, the effect of sharing economic initiatives may be somewhat different than today. For example, car-sharing initiatives could be part of an integrated intermodal transport system.
Find your business motivation!