AliExpress is the Chinese Marketplace where you can find everything you need, usually at a pretty low price, which is why in just a few years Aliexpress has become a worldwide shopping site. Together with Alibaba, the wholesale marketplace of the same company, it surpasses more well-known giants of the West such as Amazon and eBay. After checking that the AliExpress seller is reliable, one of the most frequent doubts is what form of payment one should choose at the time of purchase.
As the service is international, measures to ensure secure payment are very important. However, each customer must decide which AliExpress payment options are the best and which details must be taken into account to know what type of currency to choose for payments in AliExpress.
Here we explain all the options so that you can make an informed choice.
How does AliExpress protect its buyers and sellers?
The fact that the products come from so far away, where they even write with different characters than ours, may not generate much confidence. However, if AliExpress is also successful in Europe, it is thanks to the security it offers in its purchases and sales. This reliability is achieved by using the escrow method, as it protects the money until the package reaches its destination and never reveals the payment details. In other words, once your payment has been approved, your money will be safely stored in an AliExpress Escrow account. When you confirm that the delivery has gone as it should (and only then), the payment will be "released" from the escrow account to the supplier.
In addition, their website uses HTTPS, through which data always travels encrypted, so it can never be stolen. AliExpress also has encryption systems from Visa, Mastercard and VerisignSSL to protect payments.
In short, the numerous encryption systems and the Escrow system make shopping at AliExpress totally secure.
Related: ¿Qué son los pagos en Escrow?
How to change the currency in AliExpress
It is important that before you start shopping at AliExpress, you select the currency in which you will make your payment. This is done from the APP configuration section or the AliExpress web page.
Keep in mind that it is always better to choose the currency of your bank account. In this way, you will always know the exact amount you will be charged, and you will save possible additional payments for currency exchange since it is not possible to know in advance the exact amount of the conversion fee. In addition, by choosing the currency you normally use, you will find it easier to understand product prices.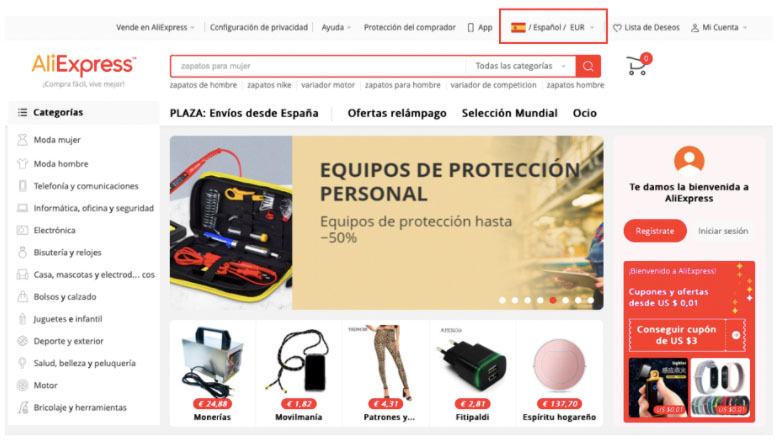 As an international marketplace, almost all the world's currencies are available on AliExpress. We also recommend that you select your country of residence to find out the shipping costs and not miss out on the special offers available for your territory.
Payment methods in AliExpress
Next, we review the different payment methods in AliExpress, with the advantages and disadvantages of each one of them.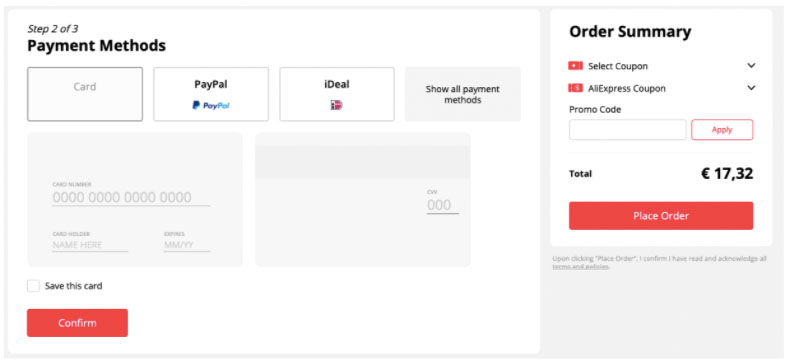 Credit/Debit Card
Risk for the buyer: Very low
This is the most used and one of the most recommended payment methods in AliExpress, since nowadays almost everyone has one or several credit or debit cards, even without paying anything. AliExpress supports Visa debit/credit cards, MasterCard credit cards, and Maestro and American Express debit cards.
You can also use prepaid and virtual cards, which have the great advantage of being more secure, since they only allow you to spend the amount you have deposited on them previously.
In addition, this method of payment is one of the simplest. All you need to do is specify your bank card number when placing the order and enter the 3-digit security code (CVV) when confirming the payment.
⚡️Tip: To save you from having to re-enter your card details every time you shop at Aliexpress, you can link the card to your account. To do this, simply select the option to save the card details on your next purchase.
PayPal
Risk for the buyer: Low
PayPal does not fit very well as a payment method in AliExpress. As an online marketplace with millions of sellers, not all of them are reliable, and many have seen PayPal as an ideal tool for committing fraud. Because Paypal is designed for money transfers, not payments, it cannot control whether the order is delivered to the buyer before the money is sent to the seller, so the relationship between PayPal and AliExpress has always been tense and it has not been possible to pay using this method for quite some time.
Can you pay with PayPal on AliExpress in 2020? Yes, recently, some merchants have been offering to pay with PayPal again. The advantage of doing so is that you do not need a credit card, simply associate PayPal with your bank account.
If you finally decide to use PayPal as a payment method for your purchase in AliExpress, just select it in the Payment section. This option will only appear if the seller supports PayPal as a payment method, which is not the case with most sellers.
The only drawback is that when you pay with PayPal, AliExpress makes you pay a certain commission that depends on the cost of your purchase. Look at the amount of the fee before you accept the payment because if the purchase is very high, the fee will probably be high too.

Bank transfer
Buyer risk: High
You have to make an international transfer, pay in dollars and you can only choose this payment method for purchases over $20. In addition, most banks charge a commission for making international transfers. For all these reasons, this is one of the least recommended options for shopping at AliExpress.
❗️Note: Remember not to make bank transfers or payments directly to the seller's account. For buyer protection, bank transfers should only be made to AliExpress.
Qiwi Wallet Alipay
Buyer risk: Low
This is the AliExpress electronic wallet, where you can charge the amount of money you want to pay for your future purchases without having to enter the data each time. If you plan to use AliExpress a lot, it is a method that will save you time, since it is super simple to use.
Just select Qiwi in the list of payment methods and enter the phone number linked to your Qiwi wallet. You will receive a security code and be redirected to Qiwi's website. When you send the code, you will see one of the three payment methods available through the Qiwi Wallet:
via the card linked to your wallet;
via your e-wallet;
via the balance of the phone number.
Once you have selected the method you prefer, the payment is processed instantly.
Currently, this method of payment is only available in 8 countries: Russia, Kazakhstan, Moldova, Romania, Belarus, United States, Brazil and Jordan.
Western Union
Buyer risk: Very high
Although less well known, it is also possible to pay at AliExpress through Western Union. In this option, you will have to go to an office, hand in a form and wait up to 3 days for the payment to be verified. This slowness and inconvenience and the fact that you can only pay for purchases over $20, also make Western Union an unrecommended option.
Other payment methods at AliExpress
As AliExpress' website itself indicates, there are many other accepted forms of payment, some of which are widely used in their home countries. Webmoney, DOKU, Ticket, Mercado Pago or Giropay are some examples.
Note that the available payment methods depend on the country of shipment and are not the same for all areas. You can find a complete list of AliExpress payment options by clicking on "Show all payment methods" before finalizing the order.

In conclusion: What is the best payment method to buy on AliExpress?
We cannot tell you which is the best form of payment on AliExpress, as each person will find one payment option more convenient than the other. In general, it is increasingly easy to get credit and debit cards, so we find it one of the simplest and most reliable options. In addition, these use the escrow method, thus guaranteeing that the product will reach the buyer, even if it is sent from the other side of the world. Otherwise, the money is safe and can be recovered. On the other hand, and without any doubt, the least recommended payment options are Western Union and bank transfer, due to the slow process and the additional costs that may be involved.
Find your business motivation!